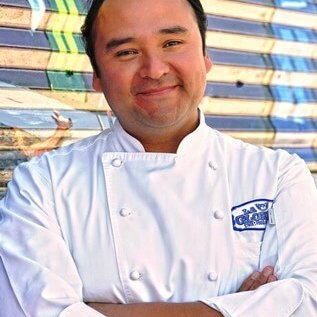 Chef Johnny Hernandez is a celebrated chef, entrepreneur, and founder and President of Grupo La Gloria and True Flavors Inc..  He is one of the premier Mexican cuisine chefs in the United States and a recognized authority on Mexican cuisine and culture.
Chef Hernandez first garnered notoriety as a rising star on the culinary scene in 2010 with the launch of his acclaimed flagship concept, La Gloria.  His culinary ventures have since expanded to become Grupo La Gloria, a diverse and growing portfolio of signature restaurants and culinary projects.
Chef Hernandez was born and raised in a community of first-generation Mexican-American families and grew up surrounded by the foods and traditions of interior Mexico that made their way across the border. Encouraged by his father to become a chef, he attended the prestigious Culinary Institute of America in New York.  Johnny began his career at a number of exclusive resort destinations, including the Mirage Hotel & Casino in Las Vegas, Nevada and the Four Seasons Biltmore in Santa Barbara, California.  Upon returning to San Antonio in 1994, he opened his first venture, True Flavors Catering which earned national recognition for catering excellence.
The most profound influence on Chef Hernandez's culinary style has been his extensive travels throughout Mexico. His time spent exploring the cultural nuances of each region's art, agricultural, and street foods has shaped his vision to create authentic and accessible interior Mexican cuisine for American diners. His mission is to celebrate and preserve traditional Mexican food, ingredients and techniques. This mission serves as the guiding principle for creating unique dining experiences that reflect the rich and diverse flavors and culture of Mexico.
Chef Hernandez has received acclaim in publications such as Texas Monthly, Bon Appetit, Poder, Saveur, Travel & Leisure, Martha Stewart Magazine, Garden and Gun, NBC Latino, Tasting Table and Southern Living.  He has been featured as a guest judge on Season 9 of Bravo's Top Chef and has appeared on the Cooking Channel's Man Fire Food and Simply Ming, as well as Travel Channel's Bizarre Foods with Andrew Zimmern. In 2016, Chef Hernandez showcased his culinary expertise and the flavors of Mexico at the White House as Guest Chef for President Barack Obama.
Chef Hernandez's culinary ventures and projects include:
With four locations in San Antonio, Tx. and Las Vegas, Nv., La Gloria celebrates the rich and delicious street foods found across the diverse regions of interior Mexico.
The Fruteria y Botanero by Chef Johnny Hernandez offers fresh fruit, smoothies, tortas and tostadas by day, then transforms into a contemporary botanero by night.
El Machito specializes in mesquite grilled meats prepared in the style of the carne asadas of northern Mexico and the campestre style of Guadalajara.
MEXIco launched with two United Kingdom locations in 2016 features real, honest, home-cooked style food, inspired by authentic Mexican recipes handed down through generations. Dishes represent the diverse flavors and styles of the vibrant regions of Mexico, with some exciting new dishes thrown in for good measure.
Located in the scenic Texas Hill Country on the grounds of the Tejas Rodeo, Tejas Steakhouse & Saloon honors the diversity of Texas cuisine by combining steakhouse classics with the flavors of interior Mexican.   The menu also features select Texas whiskey and bourbons.
Villa Rica (opening July 2017) celebrates the fresh seafood and flavors of coastal Mexico and Peru.  The menu includes ceviches, a raw bar, and a range of seafood tacos that will be the hallmark of this new seafood concept. The drink menu will feature unique twists on classic cocktails with fresh muddled fruits and bright flavors.
Burgerteca (opening July 2017) reimagines the classic American hamburger, inspired by the flavors found in traditional dishes of Oaxaca and northern Mexico. Rum-based drinks and local craft beers will be featured, as well as an onsite paleteria serving from-scratch nieves (ice cream), paletas (popsicles), and raspas (shaved ice) with bold Latin flavors.
Private Event Venues
Casa Hernan is a private event space located in the heart of downtown San Antonio, the venue evokes the grandeur of historic haciendas of Merida, Mexico.
Western Sky is a special events venue nestled in the Texas Hill Country on the grounds of Tejas Rodeo in Bulverde, Texas. Guests of this private event venue can experience a true Texas celebration with its dance hall and Western chic décor.
In Development
Tortilleria La Gloria reflects Chef Hernandez's commitment to traditional culinary practices. The molino provides the fresh corn products made from locally grown, non-GMO corn for each of his establishments in the San Antonio area.
Chef Hernandez's newest development Pakal, is a direct trade import organization that employs responsible and fair business practices to source the highest quality Latin American cacao. Pakal seeks to rehabilitate and restore the Cacao market in the Central American region.
Philanthropy and Accolades
In 2014, Chef Hernandez started Kitchen Campus in memory of his father, Johnny Hernandez, Sr. who inspired him to pursue his culinary dreams. Kitchen Campus is a non-profit organization that encourages middle and high school students to pursue the culinary arts. Students learn about food, nutrition, cooking, community involvement and leadership while exploring careers in the culinary industry.
Chef Hernandez founded the City of San Antonio's Culinary Task Force in 2015. Partnering with the City of San Antonio, Chef Hernandez is tasked with highlighting current food and beverage endeavors to help establish San Antonio as a renowned culinary destination.  Johnny also serves on many corporate and non-profit boards including the Alumni Board of the Culinary Institute of America, the New World Wine and Food Festival, the San Antonio Hispanic Chamber of Commerce, the St. Philips College Culinary Advisory Board, and the University of Houston hospitality college.
Chef Hernandez has acted as spokesperson and consultant to McCormick Spice Company, Aguacates of Mexico, the National Pork Board and The Culinary Institute of America. He was recognized by Hispanic Business magazine as one of the Top 50 Influential Hispanics (2012), one of the Top 5 Hispanic Chefs in America by Siempre Mujer magazine and awarded the "San Pasqual Award of Culinary Excellence" by the New World Wine and Food Festival. In 2014, he was awarded the "Con Corazón" award from the San Antonio Convention and Visitors Bureau for his continued work to spotlight San Antonio as a culinary leader and destination.
Chef Hernandez is currently working on his first book, Mexico Mi Gloria detailing his cultural adventures and will include his favorite recipes from his upbringing and travels.